Main
The spectral library "SPECTATION - SPECtral database for vegeTATION" is a relational database designed for the purpose of collecting and archiving spectral data and related metadata, focusing mainly on vegetational parameters.
Emerged from the DBU-aided project "Monitoring in der Döberitzer Heide: Vegetation und Fernerkundung", SPECTATION (formerly known as "SpecLib") represents a powerful tool for future research problems of spectral remote sensing at its current state of development.
Developed by Humboldt Universität zu Berlin, Universität Potsdam and GFZ Potsdam, SPECTATION is based on PostgreSQL. For new subject matters it can easily be extended and adapted. Moreover with the use of PostGIS1.4 spatial queries become possible, for example an export of coordinates to GoogleEarth.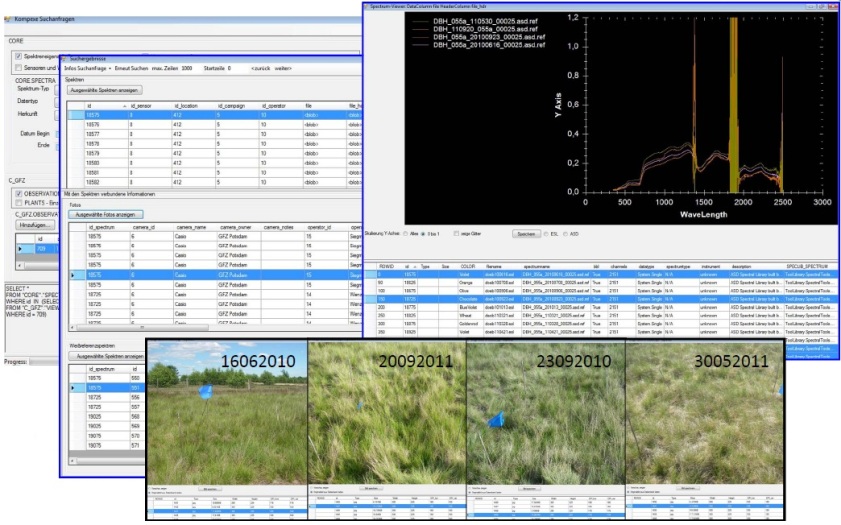 Background
The database system consists of two modules: the library, which stores the spectra and their metadata, as well as the client, which serves as query and input device of information. Internally the client uses SQL, but it is equipped with a user-friendly interface.
With the client, simple search queries over periods or research areas as well as complex queries concerning habitat or state of a single research site become possible. With the graphical display of the in-situ measured spectra, simultaneous access to phenological descriptions, photographs as well as other metadata, this spectral library allows an extensive study of natural dynamics of our environment from a remote sensing point of view.
Originally designed for the needs of the GeoForschungsZentrum Potsdam within the project mentioned above, with the current version of SPECTATION requirements of data storage and management of new measurement campaigns or even new fields of activity can be fulfilled.
SPECTATION Client distribution
The SPECTATION Client is a stand-alone software for Microsoft Windows (tested on Windows XP & Windows 7) distributed for free in the Download section of this page. A registration and the acceptance of our License are required in order to be able to download. The .NET Framework Version 3.5 is needed to run the software.
Read the manual available in the Support section for further instructions (german language only!). Before entering data into the database, we strongly recommend reading the "guideline" (german language only!), also to find in the download section.